What is 2D animation?
2D animation is the process of creating moving images through the use of two-dimensional drawings.
This type of animation is often used for cartoons and other types of entertainment but can also be used for educational and marketing purposes. You may remember the style of 2D animation from classic cartoons such as Tom and Jerry, or more recent productions like The Simpsons.
2D animation can be created using traditional hand-drawn methods, or through the use of computer software. We use software like Adobe Photoshop, Illustrator, After Effects, and Flash to create our animations.

Why 2D might be a good option for your marketing?
You may be wondering why you would want to use 2D animation for your marketing purposes. While 3D animation may be more realistic and engaging, there are several reasons why 2D can be a better option.
The look and feel of 2D animation can be more timeless than 3D. As technology changes, 3D animation can become dated. 2D animation, on the other hand, has a classic feel that can stand the test of time.
Many of your customers have been exposed to 2D animation their entire lives, through television and movies. This makes 2D animation more familiar and comfortable for them than 3D. Our clients often find that their customers respond better to 2D animation because it feels like a part of their childhood.
If your marketing campaign aims to drive sales of a product or service, 2D animation can be very effective. As 2D animated characters are more likely to be perceived as credible than 3D characters.
Need more convincing? Let's take a deep dive into the benefits of 2D vs 3D animation.
Benefits of 2D vs. 3D animation
Whilst 3D seems to be all the rage in marketing these days, there are plenty of reasons why you might want to stick with 2D animation for your project. The relative simplicity of 2D, budget and time constraints as well as the overall look can all be factors in deciding whether 2D is the right option for your brand.
So, what are the benefits of using 2D over 3D?
2D animation is often seen as being quicker and easier to produce than 3D animation. This is because all of the assets are created within a 2D environment, as opposed to having to model and render 3D objects. This can lead to big savings in terms of both time and money.

2D animation also has a unique look that can be difficult to replicate with 3D. This can be particularly important if you are trying to create a retro or nostalgic feel for your design. Plus, if you're looking for a more 'cartoon-style animation, 2D is definitely the way to go.
2D animations are often used for explainer videos or educational content, as they can be clear and concise. The flat, two-dimensional world of a 2D animation can make it easier for viewers to understand what is going on, as there are no distractions from a third dimension.
2D can also be a good option if you want to create an animated character that will be used across multiple platforms. This is because 2D assets can be easily adapted and reused, without the need for expensive 3D software.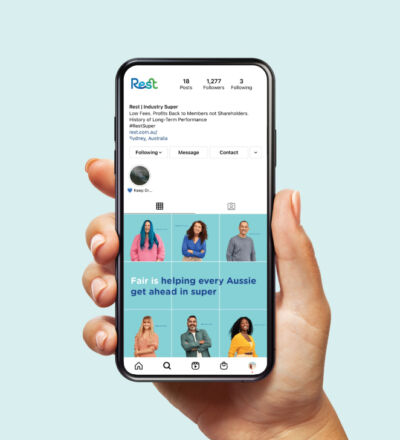 We helped Rest with 2D animation
The process for designing and building a 2D animation asset
Many of our clients come to us with a great idea for an animation, but they're not sure where to start. That's where we come in.
The process for designing and building a 2D animation asset involves a few key steps:
1. Research and planning - Also known as the conceptualisation phase, this is when we begin storyboarding and putting together a style guide for the project. This ensures that everyone is on the same page in terms of the look, feel and overall direction of the animation.
Here, we'll conduct research including a competitor analysis, to make sure that your animation is unique and stands out from the crowd. We'll also consider the tone and messaging of the piece, to ensure that it aligns with your brand.
2. Design and illustration - Once the storyboard is complete, our team of designers and illustrators get to work creating all of the assets that will be used in the final animation. This includes characters, backgrounds, and any other elements that will be needed.
This phase is often one of the most creative, as it's where we really bring your vision to life. We'll work with you closely to make sure that everything meets your expectations.
3. Animation - Once all of the assets have been designed, it's time to start animating. This is where we take everything that has been created and bring it to life. We'll animate the characters, add in any special effects, and make sure that everything flows smoothly.
4. Post-production - After the animation is complete, we'll add in any final touches before exporting the file. This includes adding music and sound effects, as well as ensuring that the colours are consistent with your brand. We'll also make sure that the file is formatted correctly for whichever platform it will be used on.
5. Editing and finalisation - The last step is to edit the animation and make any final changes that are needed. This ensures that everything is perfect before it is delivered to you. We offer revisions at this stage, to make sure that you're completely happy with the end result.
Once the animation is finalised, we'll send you the file in the format of your choice. We can also provide advice on how to best use the animation, whether it's for social media, a website, or anything else.
Using 2D for educational / information content
So, how can you utilise 3D animation within your business? Well, the opportunities are truly endless. 3D animation can be used for a variety of purposes, including:
One of the most popular uses for 2D animation is educational or informational content. This is because 2D animations can be clear and concise, without any distractions from a third dimension.
2D animations are often used to explain complex topics in a simple way, or to break down information into smaller, more manageable chunks. They can also be used to create engaging content that is easy to follow.
If you're looking for a way to explain something complicated or break down a process into smaller steps, 2D animation could be the perfect solution. Create memorable and engaging content that will resonate with your audience.

If you're interested in using 2D animation for your business, we'd love to chat with you about your project. We offer a free consultation so that we can learn more about your vision and discuss how we can bring it to life.
Our capabilities in 3D
At Dave Clark we have a team of highly skilled and experienced 3D animators. We use the latest software and technology to create realistic, emotionally stirring visuals that will capture your audience's attention and help you achieve your business goals.
We're industry leaders in 3D animation and have a proven track record of delivering outside-of-the-box creative solutions that drive results.
If you're looking to take your business to the next level, we can help. Contact us today to learn more about our 3D animation services and how we can help you achieve your business goals.
Skills our team apply to your 3D animation project:
Our team of 3D animators are experts in their field. They have a deep understanding of the latest software and technology and know how to use it to create engaging visuals.
But that's not all. They also have a keen eye for detail and are masters of creating great, informative content that educates your audience and helps you achieve your business goals.
Some of the skills our team applies to your 3D animation project include:
- Conceptualisation: We take your ideas and turn them into visually stunning realities.
- Scriptwriting: We craft engaging, resonant scripts that capture your audience's attention and help you achieve your business goals.
- Storyboarding: We map out your video from start to finish, ensuring a smooth, cohesive flow that engages your audience from beginning to end.
- 3D Modeling: We create realistic, three-dimensional models of your products, environments, and characters.
- Rendering: We create high-quality, realistic visuals that are optimised for your desired platform.
- Editing and Post-Production: We edit your video for maximum impact and ensure a polished, professional final product.
Dave Clark offers a done for you 3D animation service
We understand that not everyone has the time or expertise to create a 3D animation themselves. That's why we offer a done for you 3D animation service.
Our team of experts will work with you from start to finish, ensuring that your vision comes to life and that your video achieves your desired results.
We make the process easy for you so that you can focus on running your business while we handle the heavy lifting. Engaging, world class 3D animation is just a click away.
Ready to discover how we can elevate your project?