Celebrating 20 years of Dave Clark Design.
When Andy, Andrew, Jonathan and I began this company 20 years ago, even though we had really big dreams and ambitious plans, I don't think any of us believed that we would all be here twenty years later.

We began Dave Clark Design Associates on July 2nd, 2001, with four main aims; work quality being the most important; we were going to have an 'uncompromising attitude to create work of the finest quality'. Geographical spread: we were going to work internationally, - 'NZ was merely the place we happen to be'. Relationship; the four of us were going to 'support each other in every way', and Culture; 'we must create a company culture that values respect and kindness' to colleagues.
We moved our Auckland office a lot in our first few years. The first office was a little space in an old Post Office, then to The Empire Tavern pub, where we often worked with the smell of chips and beer, then into an old factory, which we developed into quite a nice design space. Finally, we moved into our current space in an office building, where we took a part of the floor, filling it out as we grew to fill the whole floor, meanwhile starting up our other offices . We now have five of these throughout the region, unusual in our industry. We believed a larger footprint would give us a lot more work opportunities, and so we launched our offices in Wellington, Melbourne, Sydney, and Singapore.
The thing which surprises me the most about the last 20 years is how fast our business has changed. We're in the middle of a revolution in the way that business works. This change has created enormous opportunities for our design company to grow into a sophisticated brand and digital experience company.
With digital transformation full steam ahead across all sorts of businesses, our original remit to make sure our original clients projected the right look and the right message, has grown remarkably to ensuring they also provide the very best customer experience on all sorts of platforms, digital or otherwise. The unexpected pandemic has only accelerated this process.
When we started 20 years ago, design used to be at the end of the queue – but now with a greater focus on and appreciation for thoughtful design and its wider influence on successful business, we're rightly a lot nearer the front of that queue!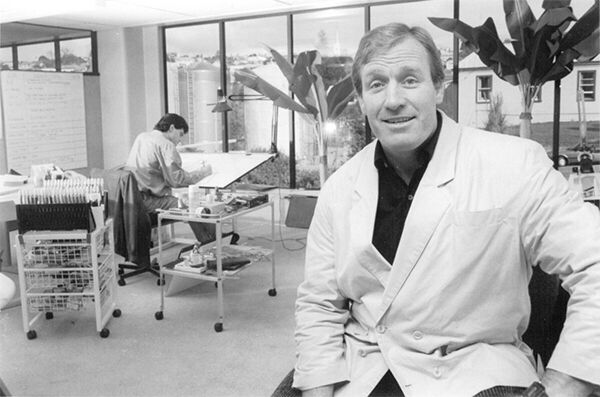 Dave in the early days of his design career.

Our Culture: the design business is a people business and we've realised how important it is to have a strong culture. We've been privileged to have had very many talented people come into the business over the years, and we've always worked hard to build a family-style culture that encourages them to remain with us and makes it a happy place to work.
We believe it's crucial to have really good, well-motivated colleagues who share a collective vision of excellence in a Service business such as ours.
These 20 years have been a wild and stimulating ride for Andy, Andrew, Jonathan, and myself, in a business that I've always loved. I'm sure our next 20 years will be every bit as fun and successful as the last 20!