Capturing hearts and minds on the business transformation journey.
Many organisations across Australasia and the world are currently engaged in some form of business transformation. This is driven primarily by the need to pivot in response to the repercussions of a global pandemic.

These changes can precipitate new ways of thinking and working. The ideal result is that companies become faster and more innovative in the ways staff work, as well as how they respond to market shifts and new business possibilities.

But no transformation can be successful, says Dave Clark, unless employees are taken on the journey, understand and accept the reasons for the changes and climb on board.
"The way in which this is done makes all the difference. I'm going to go out on a limb here and mention a word that's not used enough in conjunction with business – kindness. That's right, there needs to be some heart. Words alone are insufficient – even if they're the right words. Visual language also needs to be developed that sensitively reflects the nature of each organisation's individual journey. Any major business changes don't just affect the bottom line. First, they affect people."
Design's role in business transformation
Today companies are increasingly adopting design thinking processes or taking a cue from agile methodologies used in the software development sector to reimagine or reorient themselves to:
Become more receptive to new markets and new types of customer experiences.

Be more nimble-footed in anticipating and responding to changes and opportunities.

Operate with greater efficiency.

Optimise business outcomes – increase profitability.

Bottom line: remain in business, remain relevant – thrive.
And this is where we enter the picture . . .
According to Dave Clark Design design director, Spencer Bliss, you need close collaboration and honesty from the start. He says, "To find the best way to reflect an organisation's new way of being, we first discuss its foundations – what makes it unique. We talk about the positives and negatives that got the brand where it is today. And the 'what ifs' for the future. When we ask these questions – and many companies don't ask them enough – we unearth real insights that inform our transformation work. We see what's missing and what needs to be addressed to move forward."
Spencer thinks this discovery should be an exciting and positive process. He says, "When you don't have a case of 'them and us' with your client, you can push boundaries. You can live the transformation model you're trying to project. By going through the process together, you give everyone a chance to be heard, you can experiment and prototype, and push ideas in a different direction to come up with unexpected concepts – exploring that 'what if' in its truest sense."
We've helped communicate transformational change to the employees of a number of clients, including ANZ – one of Australasia's largest employers.
Spencer says, "The bank needed a new way of talking about their 'New Way of Working'. They commissioned us to create a brand strategy and deliver visual communications that reflected the 'flavour' of the proposed changes in a fresh and accessible way that would bring staff on board." Following the launch of the ANZ NWOW, the bank's HR team reported 'very satisfying' staff engagement levels, a rise in confidence that the new workplace culture would enable change, and higher approval of the bank's efforts to promote open, two-way communication.

ANZ lobby featuring NWOW imagery.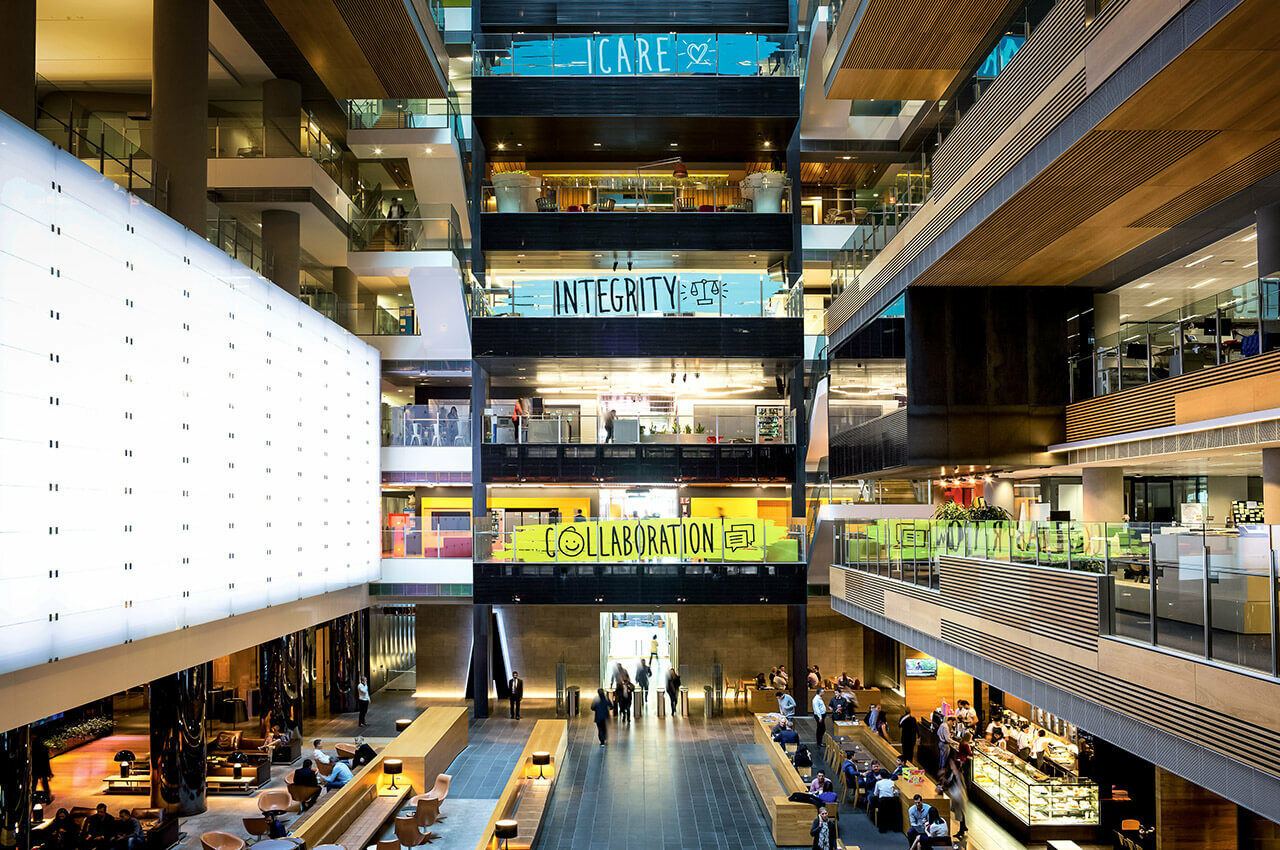 Transformation opens up a world of possibilities
"If an organisation transforms itself, its people have to change," says Dave. "A transformed organisation attracts different types of potential employees – even people who might not have previously worked in or considered working in its particular sector."
Dave says that to remain in business and thrive, organisations must develop a different kind of workforce and engage differently with them. "Transformation projects can require staff to work in very different ways from the traditional 'command and control' style used previously," he says.
"But although people can learn new skills, they still need to be treated as human beings. We give companies a way to visually take staff on the transformation journey, using imagery and symbols to tell a story. The application of a rigorous design process and design thinking is useful to give the client's messages a dimension and a context. This is valuable if you're trying to influence people's motivation and behaviour – and this is what good design does."